Hungarian Prime Minister Viktor Orbán has said in a fresh interview with Swiss weekly Weltwoche that his country's leadership is "strong enough to keep the war away from our country" while also stressing that Washington has become prime the decision-maker over the conflict in Ukraine.
He further addressed the proxy war nature of the conflict in saying, "There are some who want to force Hungary into the war, and they are not picky about the means with which to achieve that goal."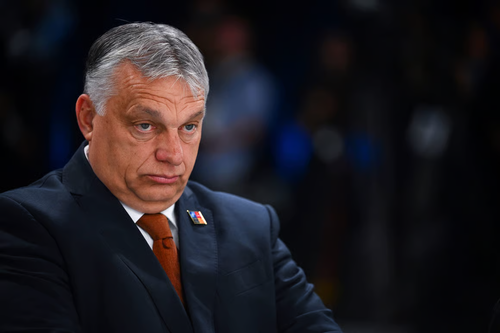 "Ukraine is our neighbor where Hungarians live as well," he continued. "They are being conscripted and are dying by the hundreds on the front." The Hungarian government has long protested this practice and presented its complaints to Kiev.
"Europe has retired from the debate," Orban complained of EU countries being dragged into confrontation with Moscow by Washington. "In the decisions adopted in Brussels, I recognize American interests more frequently than European ones."
"In a war that is taking place in Europe the Americans have the final word," he stressed in the interview.
Most recently, Hungary has shown its unwillingness to go along with the rest of NATO by delaying a vote on ratifying Sweden and Finland's accession bids.
According to a Thursday Associated Press report, "The delay, which pushes the vote back by two weeks to the parliamentary session beginning March 20, comes as Hungary remains the only NATO member country besides Turkey that hasn't yet approved the two Nordic countries' bids to join the Western military alliance." The report indicates:
Hungary's populist prime minister, Viktor Orban, has said that he is personally in favor of the two countries joining NATO, but alleges that the governments in Stockholm and Helsinki have "spread blatant lies" about Hungary which have raised questions among lawmakers in his party on whether to approve the bids.
"It's not right for them to ask us to take them on board while they're spreading blatant lies about Hungary, about the rule of law in Hungary, about our democracy and about life here," Orban complained. "(How) can anyone want to be our ally in a military system while they're shamelessly spreading lies about Hungary? So let's stop for a friendly word and ask them how this can be." But even if Budapest were ready and willing to give its approval, Turkey's ongoing resistance has been even fiercer, and thus Sweden and Finland are unlikely to enter the alliance anytime soon.
Orban also recently broke ranks with other European leaders regarding China's 10-point peace plan for resolving the Ukraine war. He was a lone Western voice in expressing approval. "We also consider China's peace plan important and support it," the Hungarian leader said before parliament last Monday. He also reiterated Hungary's position that it will not be supplying weapons to Kiev.
Thanks to zerohedge.com