By Jer In America
This follow-up is to my recent sub stacks attempting to connect the dots of the World Economic Forum (WEF) and their goals for expanding their agenda in order to stick to their timeline regarding the continent of Africa.
I look at things this way when I think about the WEF: hypothetically speaking, if a gang decides to get together once a month with knives and decide under the cover of darkness to go out and slash the tires of every car parked on residential streets of a city, and the next day all the tires of every car parked on those streets have in fact been slashed, you may not be able to prove the gang did it, but if it happens enough you might start to suspect and question what is happening and who is responsible.
After covering this for some time now, I am convinced not only does the WEF consistently tell you what they are going to do, they sure love to prepare in advance/undertake all of these preparations before they implement what they are going to carry out. For example, before COVID-19 and Monkey pox, they prepared for and ran their germ games; then COVID-19 and Monkey pox happened.
We may tend to assume WEFs decisions only center on health or viruses/diseases. Now they appear to be reprioritizing/reassessing their priorities based on policy. With this updated announcement, there are six themes developed in 2022 that have continued to be refined to set the stage for the 2023 conference beginning in less than a month, from 16-20 January:
Theme #1: Ukraine shines a light on importance of global cooperation
Theme #2: Three interconnected crises – climate, food, energy
Theme #3: Don't use the 'R' (recession)word (but it might be coming anyway)
Theme #4: Preparing for the next pandemic requires ending health disparities
Theme #5: Gender, inequality and Jobs of Tomorrow
Theme #6: 'Our future is digital'
Theme #6 is enough of a looming threat because it invokes the rollout of things like central bank digital currencies (CBDCs), universal basic income and a social credit system like we are seeing in places like China and India.
But it was Theme #4 that had me shake my head and do a double-take. Ending health disparities…what the heck does that mean?
When I started to read and unpack what Theme #4 was saying and found that it stated right up front "…where just 13% of people are vaccinated (compared to 75% of people in high-income countries)", I knew they must be mainly talking about Africa. I've seen that statistic before, so I guessed Africa right off the bat before reading any further, and I was right. I questioned the 13% metric and wanted to double check it, so based upon a total population in Africa of 1.4 billion, based on this search; 373.1 million Africans have been fully-vaccinated as of December 21, 2022, making the percentage closer to 37%, still a relatively low percentage compared to many developed countries.
FYI: Joshua Phillip also did a nice Crossroads piece on Epoch TV on this topic the other day, and you can catch that here if you missed it.
Then, I saw this this very concerning statement from the WEF announcement under Theme #4:
"Investing in health systems and regional bodies like Africa CDC and African Medicines Agency must be a key priority," said Paul Kagame, President of Rwanda. "We have to act in the full expectation that there will be another pandemic."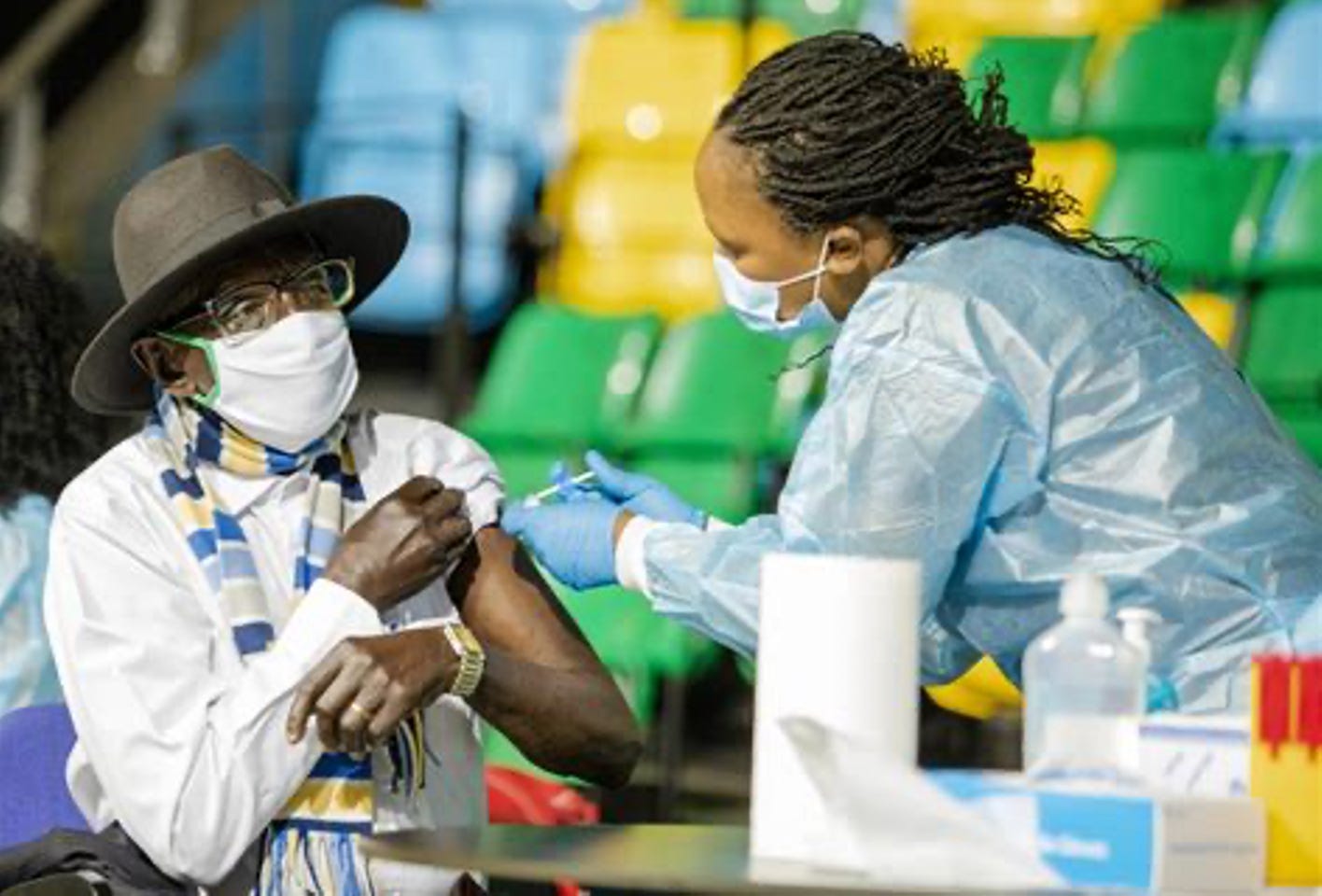 My goodness, could Africa become the next epicenter, the next Ground-zero of the next pandemic? Is this their intention? Africa has one of the lowest percentages of COVID-19 infection rates and deaths in the world, and perhaps the low vaccination rate could explain why. Is it possible the WEF and corrupt, globalists' corporations now want to punish Africa for this because they don't like these statistics? Mostly due to malaria, Africa is also a nation where many have trusted taking repurposed anti-viral drugs to prevent malaria such as Hydroxychloroquine, which has also been distributed widely and is much easier to access relative to the Unites States (after Janet Woodcock and Rick Bright conspired to circumvent both the will of the POTUS and Peter Navarro). Of course, it is highly likely that Hydroxychloroquine is one way Africa has managed to minimize the spread and reduce the number of cases and hospitalizations from the novel Coronavirus
Of course, deaths per million is the final endpoint.
So let's compare… The United States of America (green line) to Africa (red line). For those that are color blind, the line on the bottom of both charts- with almost no new cases and no deaths- yeh, that is Africa…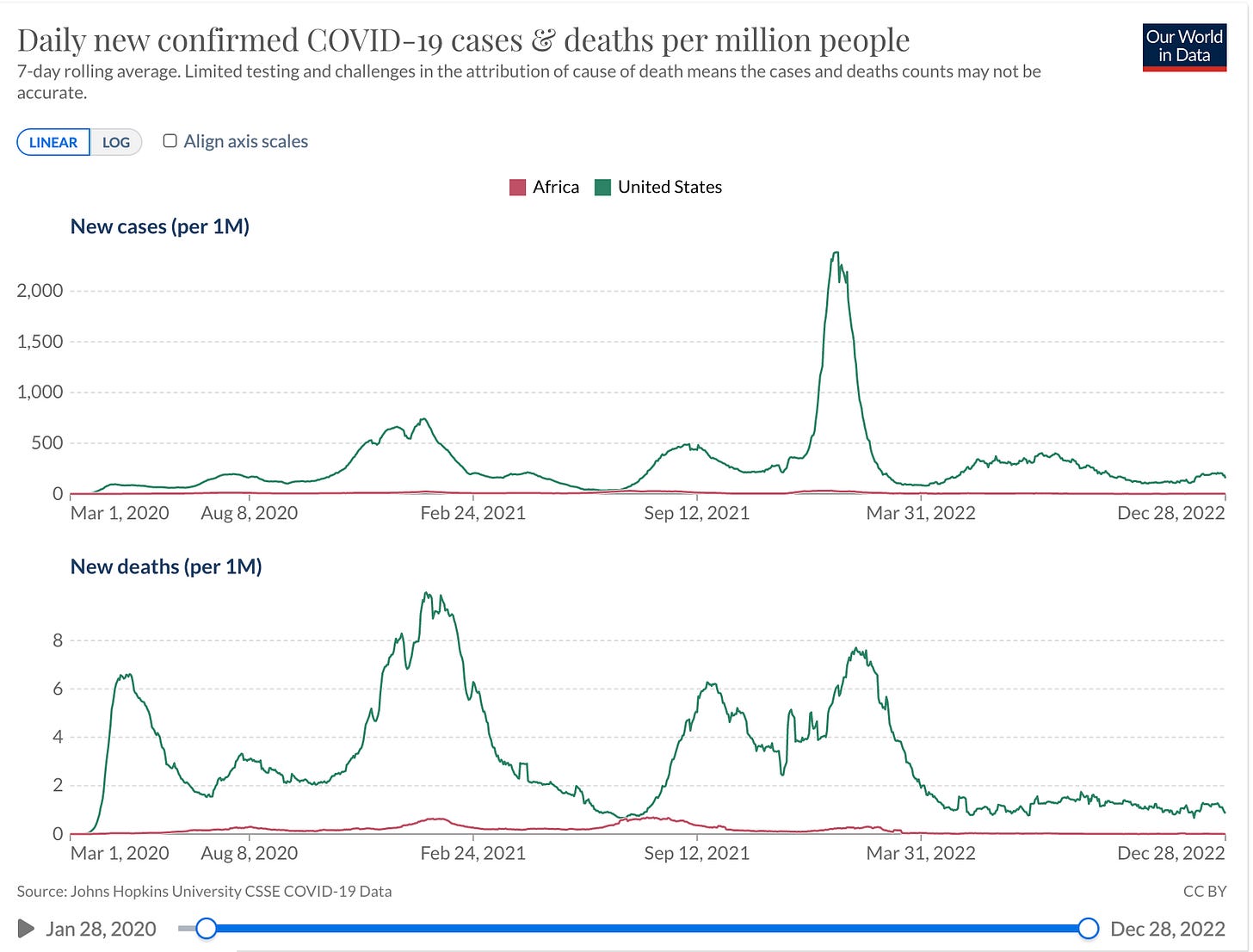 It is hard to argue with this chart. How did the "health disparities" between the USA and Africa cause Africa more death or more COVID cases per million (as the WEF claims)? It didn't. Clearly, it didn't and it doesn't take a statistician to see that!
Why would all of this matter? Well, it seems as though the WEF is moving the goalpost and trying to redefine what constitutes a global health crisis, what constitutes improved health equity. This is a recipe for more concentrated socialist health policies forced on the people who live in nations like Africa. The WEF has fairly consistently up until now framed global health crises along the lines of deadly viruses, outbreaks of infectious diseases.
This move would seem like a new virtue signaling tactic to link it to health disparity as a new way to frame a global health crisis. As if to say: if we don't think your country has enough socialized medicine, we can solve this problem for you. On top of this, Winnie Byanyima, Undersecretary-General of the UN and Executive Director of the Joint UN Programme on HIV/AIDS (UNAIDS), during a recent session on racial equity on the anniversary of George Floyd's death, made this bizarre statement:
"Racism is when black people, brown people, people of colour take their last breath because of policy violence, when they are denied life-saving, pandemic-ending medicines," she continued, "when they can't access care or education because debt is choking them."
She elaborated by what she meant by 'policy violence' as being a failure to share COVID-19 vaccines with the Global South as being 'Racism'. So if you are a corporation, a business, a nation that has not vaccinated enough Africans, by her definition, you are guilty of the crime of policy violence (and by extension, racism).
It's easy to see why this move is appealing to the WEF: if the WEF can step in and end racial disparity in Africa, they can vaccinate more Africans and achieve their goals in that region.
This background may help to understand why the Biden Administration just last week pledged $55 Billion in aid to Africa over the next three years. President Biden declared that his country is "all in on Africa's future," adding, "When Africa succeeds, the United States succeeds."
This reminds me of the steady stream of money the U.S. keeps printing to send over to Ukraine which is getting harder and harder to trace and show any accountability for. Perhaps out of guilt or shame, both of which play right into this narrative, corporations mentioned in the Biden $55 Billion aid article are now coming out of the woodwork and pledging money for various related globalist projects that will build a framework necessary to target Africa.
There is always plenty of money to go around when the WEF is involved. Therefore, we must continue to monitor what the WEF is doing (and who they are motivating to partner along with them). It is important to pinpoint what does and what does not come true, based on what they tell us they are going to do. Just how far does their influence reach? Are they directly impacting future globalist trends? Is their goal truly"ending health disparities" or is it relating to the expansion of a command economy and centralized planning – otherwise known as socialism on a global scale?
Inquiring minds want to know.
Source. rwmalonemd.substuck.com